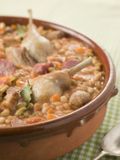 « Table d'hôtes » (on request 48h in advance)
For minimum 2 people or more
All our dishes are freshly prepared using high-quality ingredients and cooked on the premises.
Our menus vary depending on season and…our inspiration
We offer a choice of fine local cooking. See our suggestions: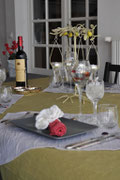 Menu « Authentique » (authentic local menu) served with Madiran wines - 24€ per person
Starter : homemade soup or a farmhouse terrine, cake or mixed salad

Main dish: a local meat dish: preparations of duck, hen and chicken or lamb from the Pyrenees or veal…

A homemade dessert: fresh season fruits, flan, mousse gateau, cakes…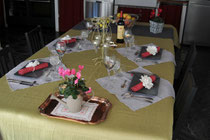 Menu du « Gourmet » (gourmet menu) served with Madiran high-end wines – 38€ per person
Starter: local dish (foie gras medallion)

Main dish: according to season we suggest cassoulet or the delicious meats and poultry of the south-west: black Gascon pork, duck (confit, roasted or stewed), lamb (shoulder roast with confit garlic or leg of lamb with garlic cream), milk calf meat…
Fine world food is also available inspired by the Creole cuisine - chicken in coconut milk, coconut or banana flan…- or the Moroccan cuisine - lamb tajine, orange salad…- or the Flemish cuisine -Flemish carbonnade (beef stew), a range of desserts with speculos biscuit …
If you have spent the whole day travelling on the day of your arrival and you feel like having
a light dinner, we suggest a rapid but full meal with starter, main and dessert+ drink at the price of 17€.
Packed lunch or picnic hamper on request (48h in advance)
Minimum 2 people- 15€ per person
Full meal including:
Mixed salad or terrine
Homemade sandwiches
Cheese or yoghurt
Fruit or cake
Drinks